I had all good intentions of getting this post live on Sunday, but yesterday we had the laziest of lazy days. Even turning on the laptop was too much effort. I do think you need days like this from time to time, and I am trying to embrace them and not feel too guilty. Infact this past week has been a much quieter week, though of course not every week can be full of crazy birthday celebrations. Here is a little look back at the past 7 days.
The final birthday celebration
Okay, I did squeeze in a final birthday meal with friends this week, and we went to the wonderful Hollies Farm Shop in Cheshire for an evening meal. They do an excellent £10 Burger and Pudding deal on a Monday, Tuesday and Wednesday, and look how my fruit pudding was served. I had a lovely evening putting the world to rights, with 2 of my closest friends.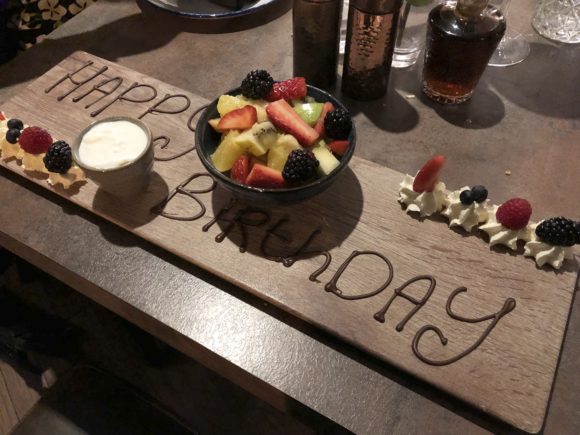 Our wonderful NHS
This past week we have had 4 appointments in our family Nothing major, just routine blood tests, visits to the Doctor etc, and it made me realise how wonderful our NHS is. Imagine if we had been asked to pay for the privilege of seeing a professional, after our appointment had finished. We are very lucky to have the NHS in this country.
Cold Feet and Cleaning Up
We don't tend to watch an awful lot of 'traditional TV' as we prefer Netflix, but the wonderful Cold Feet is back on our screens. It feels like a warm hug, plus the characters have older teenage children, so it's like looking into our future. Though I don't know if that's a good thing or not.
We have also started watching Cleaning Up with Sheridan Smith on ITV.
Truly Madly Guilty by Liane Moriarty
After finishing The Husband's Secret by the same author, I started Truly Madly Guilty straight away. It seems a little slower to get into, but I still have high hopes for the book.
So that's a round up of our much quieter week, which I think was very much needed. What have you been up to this past week?