We have visited Orlando in 2011, 2012 and 2013. Yes our 'once in a lifetime trip' back in 2011 saw us visiting the sunshine state 3 times in 25 months.  I thought I would share some of the activities, restaurants and places to stay when visiting Orlando.
Different activities to do in Orlando
I was going to write about our favourite theme park rides, which I am sure would include Thunder Mountain and Kali River Rapids. But then I thought about all the different activities you can do. Activities that you might not think about if you are planning a trip to Orlando.
Visit the Grand Floridian hotel in Disneyworld, and soak up the atmosphere in the very grand foyer.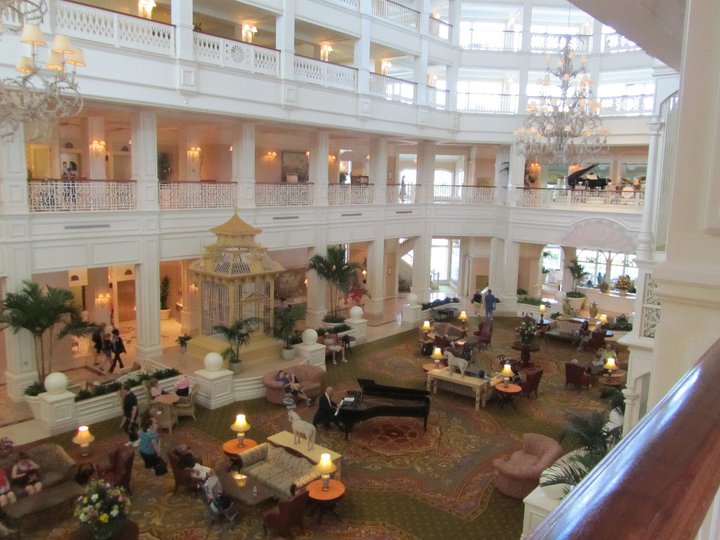 Take a trip to the Old Town in Kissimmee, for an evening of entertainment. As you walk around the shops you get a real feel of what America was like in the 50s and 60s. There is also a funfair , and if you visit on a Saturday evening you can catch the classic car tour.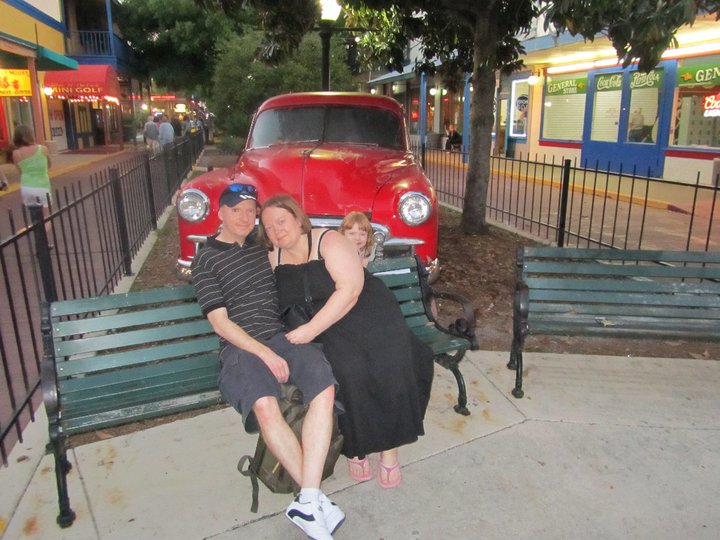 Pick a club up and play golf. There are plenty of crazy golf attractions along International Drive. You can't beat a golf lesson from your nana.
Our Top 3 Restaurants
It was so hard to choose our top 3 favourite restaurants, as we have dined in so many fantastic places. So I delegated it out and asked the kids, and this is what they came up with.
At Hollywood Studios you get the chance to eat your lunch in a car, whilst watching old black and white movies. It is advisable to book in advance as the Sci Fi Diner is very popular.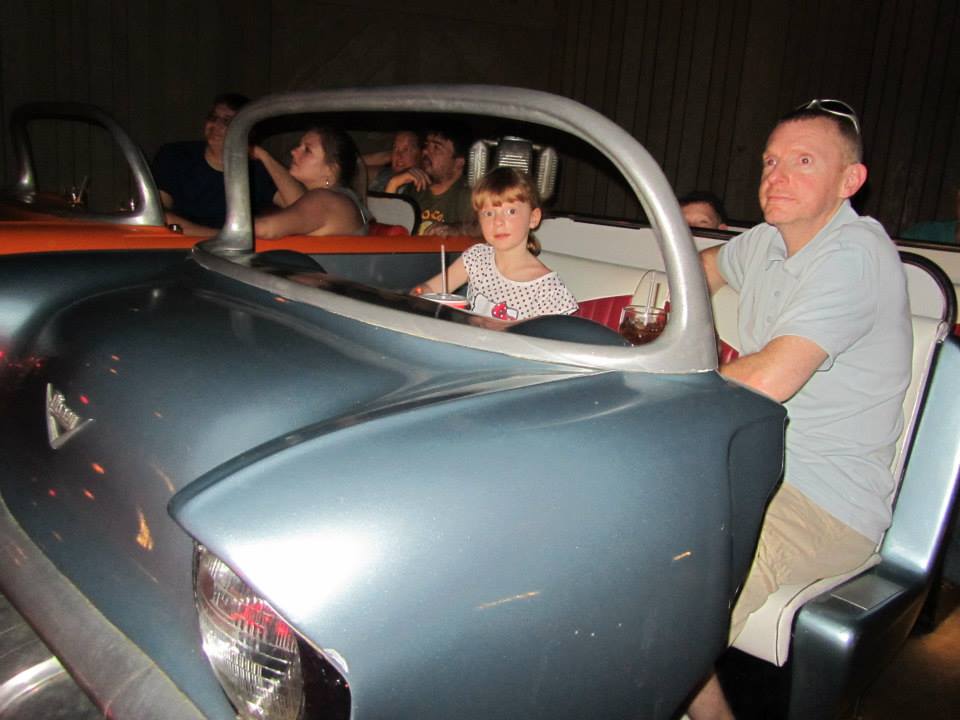 T Rex in Disney Springs is a Dinosaur themed restaurant. Each room has a different theme and landscape, and every 20 minutes or so diners will experience a meteor shower, with loud noises and lights flashing. T Rex is also the place to go if you fancy a true American burger.
Fancy dining with the Beast ? Then you can at Be Our Guest restaurant in the Magic Kingdom.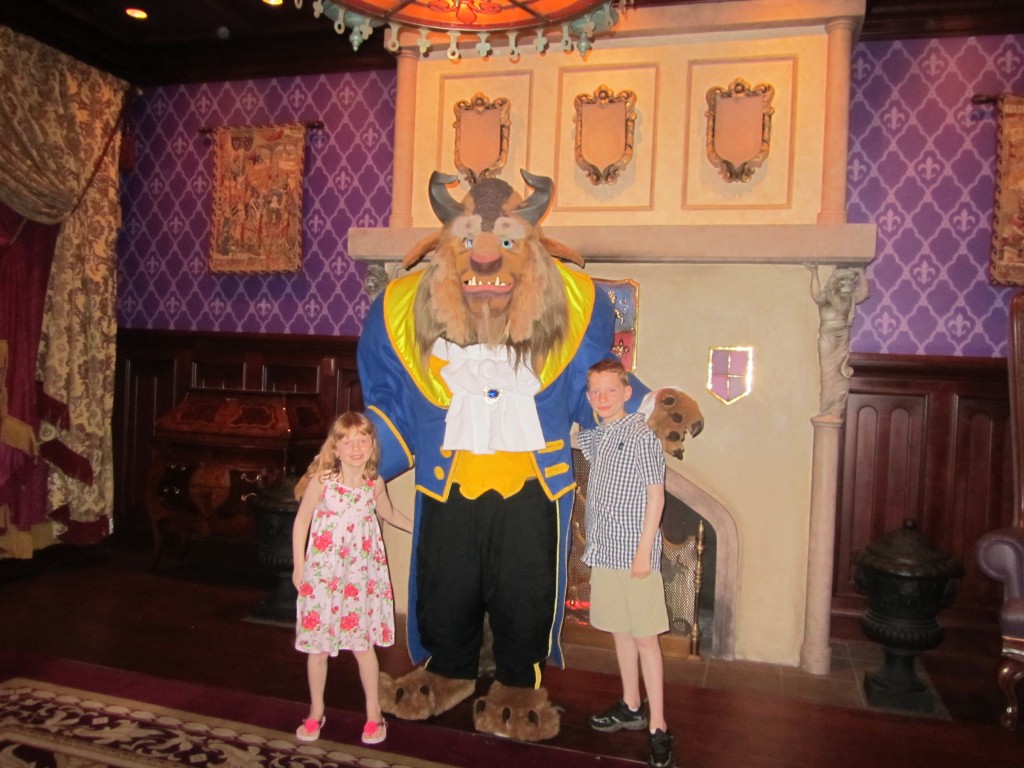 Places to stay in Orlando
During our first trip we decided to book for 1 night at the Royal Pacific Resort at Universal. Staying at the onsite hotel meant we could enter the Wizarding World of Harry Potter 1 hour before it opened.  We also skipped the lines with the Universal Express which was a god send in the heat. Plus you could easily walk to the parks, or take a short boat ride at the end of the day. We loved our stay at the Royal Pacific Resort.
We have stayed twice at Old Key Resort in Disneyworld. We love the whole relaxed vibe of the hotel, and both times we have stayed we have received the full Disney dining plan free of charge. This meant that all our meals, including character ones, were included with the dining plan. Our last trip we spent 2 weeks at the hotel, which meant we could enjoy lots of time chilling around the pool.
Whilst staying in a hotel and being close to the attractions is great, what if you want more space ? A villa is the ideal option if you don't mind being further away, and are a good choice if going with extended family. Our first visit we booked a 5 bedroom villa as we went with my parents, and my sister and her family.  The best part of the villa was having your own private pool, perfect for watching the sun set on another amazing day.
As we had booked our villa with Thomas Cook, we didn't know what type of villa we would be  getting until we got there. Now I like to be organised and have an idea of the type of accommodation we are staying in. Top Villas is a leading luxury villa company that has a huge choice of amazing villas in Orlando.  You get to choose the exact villa you will be staying in.  On our last visit in 2013, Katie was a huge Tangled fan. Imagine seeing her delight staying in a room like this.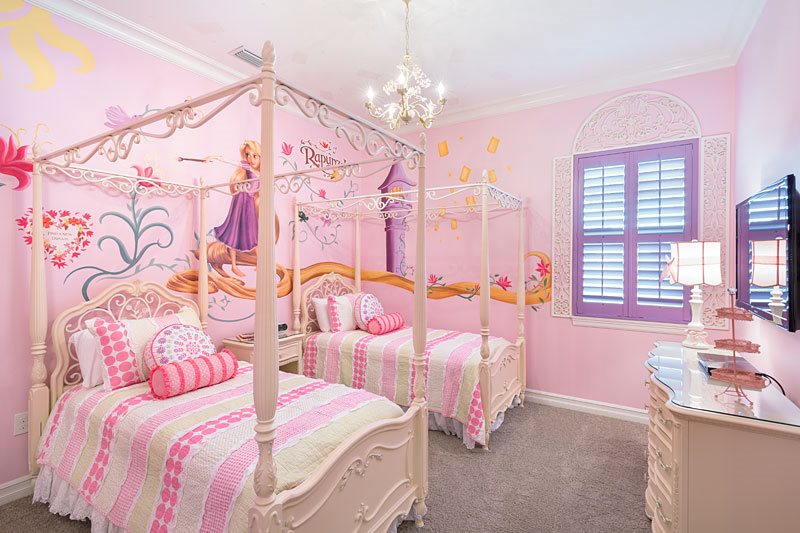 Or how about staying in a villa with a games room as awesome as this.
There is nothing like returning to your villa after a day in the parks and relaxing in the lounge, hopefully with a nice cold American beer. I love the contemporary design of this villa, and the open plan living.
I really hope that one day we will return to Orlando, and I know that if we chose to stay in a villa, I would be booking one from Top Villas amazing collection.
*This is a collaborative post with Top Villas