Nice and Monaco were the destinations of choice for my huband turning 50 in 2021, but of course it was another holiday that had to be cancelled. But 18 months later we finally got a city break to Nice and Monaco, and we headed off to the South of France for 3 nights.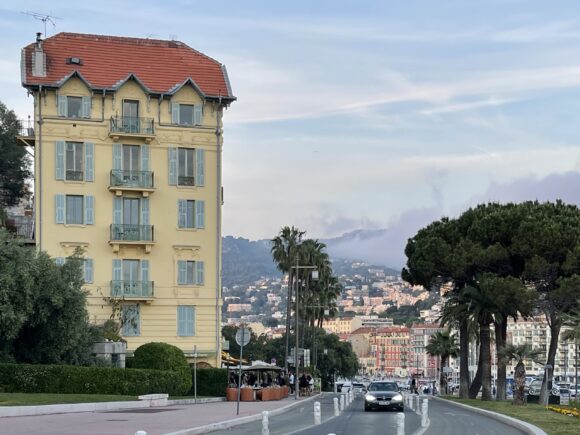 Flights were booked with easyJet, and for the first time ever we were flying out of Liverpool airport. What a difference Liverpool is compared to Manchester, and I found it a much more relaxed experience. It took us just 1 hour and 55 minutes to get over to Nice, and we had a great flight with easyJet.
As we were travelling with just hand luggage, we were soon through Passport Control, and on the tram which connects the airport with the centre of Nice. The tram system was fantastic, with a single fare costing 1.50 euros to any destination on the tram line.
Where did we stay in Nice
We stayed at the Ibis Styles Nice which was located halfway between the train station and the Promenade Del Anglais. This was our first time staying in an Ibis Styles hotel, and I was really impressed. The hotel was located in a quiet, mainly residential area, but less than 10 minutes walk and you were at the bustling Promenade.
Our room was located on the top floor, and had 2 french windows opening out onto a lovely balcony area. The bathroom was large and modern, and I was really impressed with our room. Breakfast was included, which was continental, and being in France there were plenty of pastries and soft cheese. The hotel was lovely and quiet throughout our stay, and I would definitely stay here again.

What did we do in Nice
We went to Nice with very little plans, but ended up seeing lots of this beautiful city. Nice is a city where you can just wander for hours and hours, being surrounded by beautiful buildings, stopping to enjoy the French cafe culture, and of course taking a stroll along the famous Promenade Des Anglais, which stretches for 7km.
If you want amazing views over the city, then a walk up Castle Hill is a must. Now I have to confess that I stayed at the bottom, happily watching the world go by on a bench on the promenade, whilst the husband made the climb to the top.
Further on round the headland is where you find the Port of Nice. This is where you can gaze at the luxury yachts moored here, and there are many bars and restaurants overlooking the port. There is also a tram stop in the port area, which takes you back to the city centre, and beyond that, the airport.
Not to be missed is a visit to the old town of Nice, which is located in the south of the City. Narrow streets are lined with beautiful old buildings, and the old town is where you will find the markets, selling everything from fresh fruit to antiques. Typically, we missed the markets as they were packing up for the day when we got there, however we found a gorgeous restaurant overlooking a small square, to watch the world go by.
On our last day we took the land train which is located on the promenade, not far from Mcdonalds. We paid 10 euros each for the 45 minute train ride, around the old town of Nice. Well worth the 10 euros just to sit down and rest our feet, well it was our last day and we were flagging!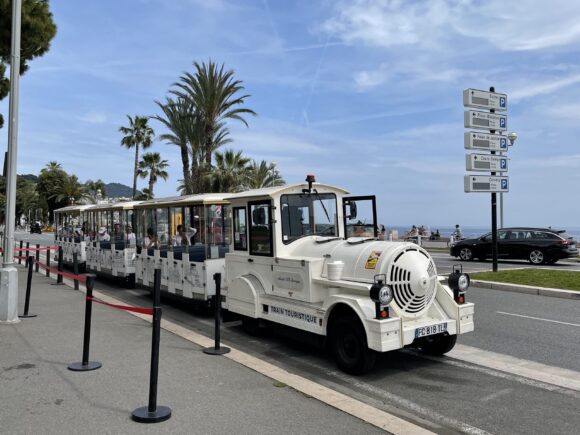 Visiting Monaco from Nice
Monaco is 20 minutes away from Nice by train, so of course we had to visit the playground of the super rich. A return journey was 8.80 euros, and my tip would be to buy your tickets on the Trainline app, as when we got to the station there was a huge queue for tickets.
We followed the crowds off the train, and we ended up walking to the famous Casino in Monte Carlo. It is certainly a grand building, and dominates the square it is located on. You can of course go inside and gamble, but we just went in for a look around the spectular lobby area. There is a bar inside the lobby, and if you want to check out the loos, then you will need 1 euro for the priviledge.
As it was a beautiful sunny day, we went for a drink in the cafe in Casino Square. Of course you are paying a premium for the location, and a beer and a coke was 19 euros. Expensive, but not as much as I paid in St Mark's Square in Venice last year.
Whilst Monaco is a small country, it can take time to explore as it is very hilly. There are elavators (some that are hidden away in shops and down back alleys), but I found it was quite difficult to get to some areas, and there was probably a huge part of Monaco that we missed. We did manage to see all the very impressive yachts in the harbour.


Eating and drinking in Nice
You certainly won't be disappointed with the amount of restaurants in Nice, as every few metres and you are passing another eating establishment, most with outdoor areas so you can enjoy the 'French cafe culture'. We decided to just eat at whichever resraurant we liked the look of, and I loved watching the world go by as we were having dinner.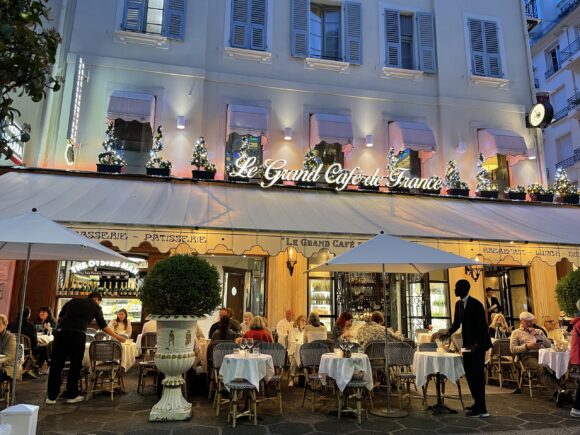 I must admit that I wasn't blown away by the food in Nice, and if we went again I would do more research about where to eat. As with any city, eating out is expensive with mains costing around 18 to 38 euros. The service was always very good though, and some of the restaurants and bars offered a Happy Hour on drinks, usually around 4pm till 7pm.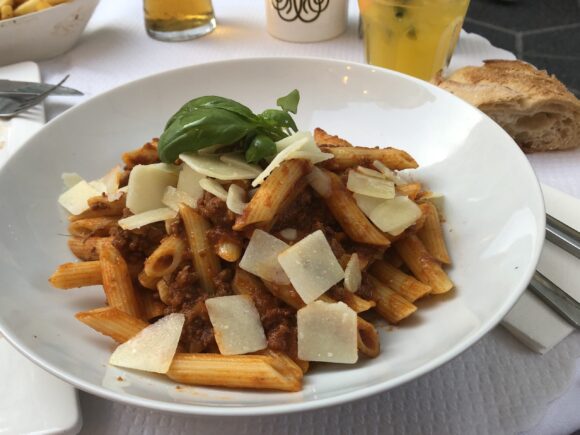 One place that I really wanted to go to, was the Negresco Hotel located on the promenade, a place where the rich and famous have stayed over the years. Our budget couldn't quite stretch to a night at the Negresco, so we had to settle for a 17 euro glass of wine each, served in the stunning piano lounge on the ground floor. The service was just as you would expect for the grandeur of the hotel, and of course my husband had to take some pictures of the amazing art work in the hotel.


How much did our 3 night trip to Nice cost us
I always like to be transparent with costs, and our 3 night trip to Nice cost the following
Flights with easyJet – £173
Hotel with breakfast – £433
Spends – £480
Total – £1086
A city break to Nice and Monaco was just what we needed, and we had a fantastic 3 nights away.