We have recently returned from a weekend in York with our two teenagers, and as I did lots of research before we went, I thought it would be helpful putting it all into a blog post. We have stayed in York on several occasions, and this visit was a very special trip, as we were celebrating my husband turning 50. We had originally booked flights to the South of France, but due to covid, these were sadly cancelled.
I also looked into planning a party for him, and there are some fantastic venues you can hire with Square Meal UK, including private dining which I thought would be ideal for my foodie husband. In the end we decided on a 3 night trip to York, however I'll definitely be exploring private venue hires for my 50th in just over a years time.
Where we stayed in York
I wanted somewhere that had the WOW factor with plenty of space for us all, so we booked our very first Airbnb. It was perfect for us as it had 4 bedrooms (1 more bedroom than we actually needed), fantastic open plan kitchen and entertaining space overlooking the private garden. It was located just outside the city walls, which gave us easy access on foot to all of the attractions in York, and despite being close to the city centre, the house was in a peaceful location.
We had a beautiful master bedroom on the top floor, with a roll top bath in our en-suite. It certainly had the wow factor, and the house had a lovely homely feel. We paid just over £1100 for our 3 night stay, so not the cheapest, but we were staying during half term which always bumps up the cost.
What we did in York with teens
With any city trip I think you need to be organised, especially during these covid times where the majority of attractions need to be pre-booked. This was certainly the case in York, with many attractions sold out on the day. I had planned an itinerary about a month before we went, and everything went to plan. Here's what we got up to in York with our teens.
JORVIK Viking Centre
We have visited the JORVIK Viking Centre when the kids were little, and this visit the husband and eldest teen were booked in (I got the delight of taking the younger teen shopping). They spent around an hour in the attraction, and the tickets were £12.50 per adult. The great news is that your ticket entitles you to free entry for 12 months, which makes it great value for money.
If you would like to know more about the Jorvik Viking Centre, Donna from What The Redhead Said has a full review of her visit on her blog.
The Potions Cauldron
The Potions Cauldron is located on the Shambles, and is a magical drinks emporium with a Harry Potter theme. I booked us in to make wizard potions on the Saturday afternoon, and adults have the option of adding a secret ingredient such as vodka, gin, whisky or rum. We had great fun doing this and it lasts around 20 minutes. Pre-booking is a must, and for the 4 of us it cost £24 and we made 4 drinks, 3 of which were alcoholic.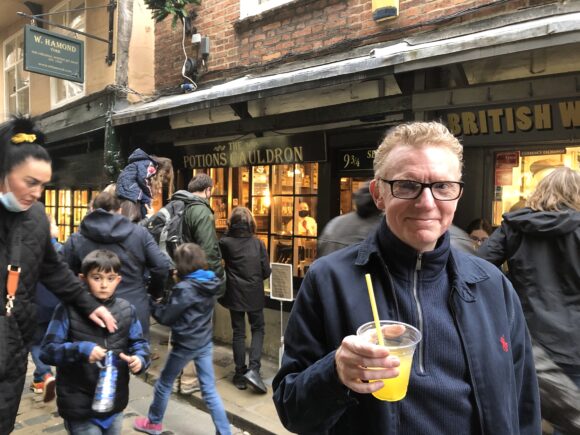 Ghost Bus Tour
After a day of walking around York it was a welcome relief to be sat on the Ghost Bus Tour, which sets off from outside York railway station. We were booked on the 7.30pm tour, which takes around 75 minutes. During the tour you are treated to gory stories all about the history of York. It was a fun way to see some of the city whilst sat on a traditional 1960s Routemaster bus. The cost of the tour was just under £60 for 3 adults and 1 child.
York Minster
On the Sunday it was time to visit York Minster. I had pre-booked for the 1pm slot and the price was £33 for 2 adults, 1 student and 1 child. Like the JORVIK Viking Centre, your ticket allows you to visit as many times as you want over the next 12 months. You are free to wander around the Minster and masks must be worn. We spent a lovely hour exploring the Minster, and even the teens were in awe of this magnificent building.
York Dungeon
York Dungeon was our final activity on the Sunday, and again I had pre-booked. The tickets should have been £75 but because I booked through the National Lottery days out incentive, they ended up costing only £8 for us all. As you can imagine we had great fun for that price, and as always the Dungeons deliver a great experience.
Where we ate in York with teens
The Ivy York
As we were celebrating my husband turning 50, I had booked The Ivy York for his celebration meal. This was our first Ivy visit, and what a great experience we all had. We had fantastic food, delicious cocktails, and we had a lovely evening in the company of our teens at The Ivy.
Lucia Italian Restaurant York
Lucia restaurant had been recommended by my lovely blogging friend Colette and her sister, over at Going on an Adventure. We booked in for a leisurely Sunday afternoon meal, and I was blown away by the quality of the food and service. My main of slow cooked beef shin with saffron risotto was amazing , and even now I'm still thinking about it. They really made my husband feel special, offering him complimentary prosecco at the start of our meal, and a complimentary cocktail at the end. Fantastic service Lucia.
Burgsy Burger Restaurant York
I chose Burgsy in York as my husband and teen are huge burger fans, and there were consistently good reviews for this independent family run business. We had a great evening, and yes the burgers certainly lived up to its reputation. Katie also had great fun toasting marshmallows and making s'mores for her dessert, which was a very reasonable £3.75 per person.
As you can see we had a fantastic 3 nights in York celebrating my husband turning 50, and I hope this post has given you some inspiration on visiting York with teens.
If you would like more inspiration for your York adventures, then Donna from What The Redhead Said recently visited the National Railway Museum, and you can read her review here.