The 3rd July 2022 was quite a momentous day in our house… it was the day we FINALLY made it to Venice. After a wait of nearly 2 years and 4 cancelled flights, we boarded our easyJet plane and we were on our way to Marco Polo airport.
We would be in the city for just over 48 hours, and I had passed the all important planning over to my husband and son. So how did we spend 2 days in Venice with teens.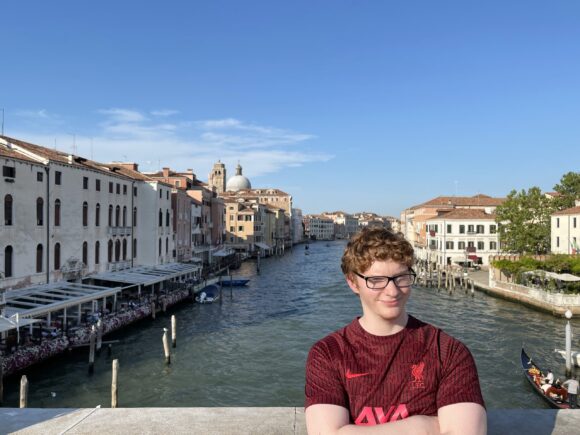 Doge's Palace and Bridge of Sighs
The Bridge of Sighs can be viewed from the bridges of Venice, and we were lucky that our hotel was just around the corner. However, if you want to step foot on the Bridge of Sighs, you will need to pay to enter Doge's Palace. We visited in the afternoon, and whilst the queues were huge, we had booked online that morning which meant we could skip the queue.
You definitely need a few hours in Doge's Palace, and if your teens love history, then this is definiutely the place to immerse yourself in. We paid around £100 for a family ticket.
St Mark's Campanile
St Mark's Campanile is the bell tower for the Basilica and is the tallest building in Venice, located in St Mark's Square. A lift takes you to the top where you can get amazing views across the city. We paid 10 euros each when we were there in July 22, and I would recommend going later on in the day to avoid the queues.
Enjoy a drink in St Mark's Square
Whilst husband and son had worked out which sights to visit in Venice, enjoying a drink in St Mark's Square was top of my list. I knew it was going to be expensive, but it was also a wonderful experience, simply watching the world go by in the famous square, and listening to the band playing.
Three lagers and a coke cost us *sharp intake of breath* 69 euros. The drinks did come with a variety of snacks, and of course I made sure we ate every last crumb.
Hard Rock Cafe
As this was the eldest's very belated 18th birthday trip, it was his choice where to eat on the second night. He chose the Hard Rock Cafe, which was just around the corner from St Mark's Square, and on one of the many canals in Venice. The food was what you expect from a Hard Rock Cafe, no authentic Italian food, but what I had tasted good and the cocktails went down a treat.
St Mark's Basilica
St Mark's Basilica does get very busy, and we decided to visit for opening time. There was still a short queue to get in, but it moved quickly and we were soon inside the Basilica. It's important to note that clothes and bahaviour must be appropriate for a place of worship (shoulders covered).

Eat Pizza and Gelato
You can't come to the city without trying Italian pizza and gelato. We stumbled upon a lovely little restaurant which was tucked away in the back streets of the city, where we feasted on amazing pizza, washed down with a few glasses of Aperol Spritz. I had read that dining away from the main tourist areas is cheaper, and we certainly found this to be the case.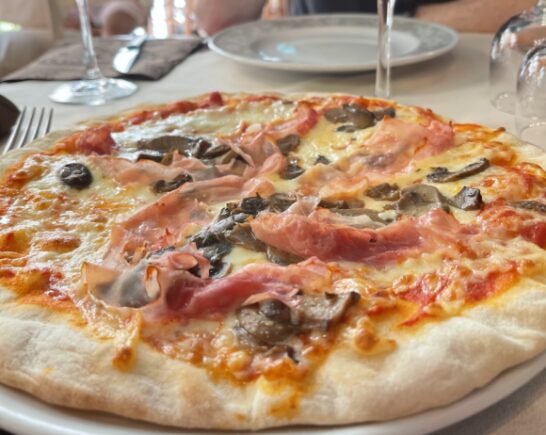 And with the city basking in 33 degree heat when we were there, we certainly needed ALL of the gelato to cool ourselves down.
Take the Vaporetto around the city
Venice is literally surrounded by water, and once you are on the island the only way you can get around is by foot or by boat. Yes, not the best city to visit when you hate boats. Upon arrival into Venice by train, we decided to use the Vaporetto which is their public boat service.
We paid 30 euros for 3 adults and a child, and it stopped right outside our hotel, which was just around the corner from St Mark's Square. You can also buy day passes if you are going to travel by boat a few times a day.
See the Rialto Bridge
The iconic Rialto Bridge is a must when visiting Venice, and we were lucky that our Vaparetto went under the famous bridge, when we were travelling in for our first time. The Rialto Bridge obviously gets very crowded during the day and evenings, however if you visit early in the morning, you can avoid the crowds.
Shopping in Venice
No city break with teens would be complete without a little bit of shopping, and the city has a mixture of high street and gorgeous beautiful Venetian shops and markets selling coloured glass from Murano, masks and leather goods. Sadly we had only travelled with hand luggage, so we had to be careful how much we bought.
Where we stayed in Venice
Even though we were only staying 2 days in Venice with teens, we actually ended up staying in 2 hotels (this was down to booking the first hotel way back in 2019, and they were good enough to still be honouring the booking several years later).
Our first night we stayed off the island at the Staycity Hotel in Mestre, and this is a great option if you are after more affordable accomodation. The hotel is a short walk from Mestre train station, where you can get the train into Venice in around 10 minutes.
The second night we stayed at the Hotel Paganelli, a fantastic hotel just a short stroll from St Mark's Square. We stayed in a family room which had amazing views over San Marco basin. I can highly recommend this hotel if you are looking for a base close to the attractions in St Mark's Square, and opposite several Vaparetto stops.
I hope this has given you some ideas on how to spend 2 days in Venice with teens.
If you are staying closer to home this summer, the following posts might be useful if you are planning a UK City break.