Back in the summer of 2019 we had the pleasure of staying at Carden Park in Chester. This was our 4th visit to the hotel, and this time we stayed in a courtyard suite Carden Park.
The courtyard suites are my favourite accommodation at the hotel, and our suite certainly had the wow factor when we entered. Our room looked as if it had been recently refurbished, and I loved that we had a seperate living area to relax in, plus a balcony with table and chairs. Unfortunately we didn't get much use out of the balcony as it constantly rained for the first day, typical summer weather in July.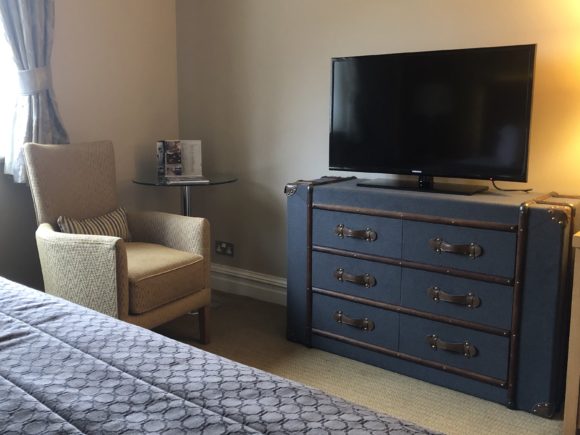 The bathroom was a good size with a seperate shower, and those all important Espa toiletries. There was also fruit and bottles of water that were complimentary, and a small fridge that was handy. The courtyard suites are more expensive, but I definitely think they are worth it for the space you get. The suites are arranged in little buildings, and I would imagine they are quieter than staying in the main hotel. One tip would be to pack an umbrella if it is forecast rain, as it's a few minutes stroll to the main building where the bar and restaurants are.
After a few hours relaxing in our suite, we headed to Morgan's bar for a few pre-dinner drinks. And what better way to start our evening than listening to the pianist, and enjoying a few gin and tonics.
Carden Park has two restaurants, and we were booked into the more formal one, Redmond's restaurant. We were seated with a view overlooking the front of the hotel, and what a beautiful view. This is certainly the place if you want to experience fine food and excellent service, and throughout the evening we were looked after by the marvellous Mark.
As we had booked on a dinner, bed and breakfast basis, we had £25 per person allocated for dinner. As this is the more formal restaurant, our allocation covered our starter and main, or main and dessert if you prefer. For starters we went for the salmon and ham hock terrine which were both delicious. For mains the husband opted for the Carden burger, and I went for the corn fed chicken. Again both dishes were absolutely delicious.
As this was a relaxing break we decided to order breakfast to our suite, which was an additional £5 tray charge. It certainly was a treat to just roll out of bed, open our balcony doors as it had finally stopped raining, and enjoy our breakfast. And what a feast we had.
After checking out we used the spa facilities, and we enjoyed a relaxing few hours in the pool, large Jacuzzi and trying not to fall asleep on the hot beds. It's a lovely spa area, and with the NEW 10 million pound spa hopefully set to open later this year, Carden Park will definitely be the place to come for spa days and breaks away. Our room was overlooking the new spa development, and with amazing views over the golf course, I can't wait to come back once it's opened. It's certainly going to be a great addition to the North West.
Carden Park Spa
In January 2023 I finally made it to the Carden Park Spa. Having seen the spa being built on our last visit, it was amazing to see the transformation. The wow factor for me was the outdoor spa garden, and even though we visited in January, we spent most of our time in the bubbling hot tub and the heated outdoor pool. Below are a few pictures from our day, and coming soon will be a blog post all about the Carden Park Spa.
The library area at Carden Park
After our relaxing swim in the hotel, we had time for lunch and a final drink before heading back home. Even though we only live around 40 minutes away, our Courtyard Suite Carden Park was perfect for escaping for 24 hours. We had a lovely break away, and it was just the relaxation we needed.
Though we have only ever been to Carden Park as a couple, the hotel is also great for families.
We received a discount on our dinner, bed and breakfast stay in a Courtyard Suite in exchange for this honest review