Review – We were invited to the Cookhouse and Pub to try their Festive Menu with drinks
We are well and truly in the Festive season, and go to any local pub or restaurant, and it's highly likely you will see their Christmas menus being advertised. So when Cookhouse and Pub invited us to our local restaurant in Northwich to try their Festive menu, it was a chance to enjoy a much needed evening out with the husband.
We had last visited the Cookhouse and Pub back in October when we enjoyed a chilled out Sunday, and I was looking forward to visiting in the evening. As always we were welcomed by the friendly staff, and despite visiting mid-week the pub was busy with people enjoying the build up to Christmas. Even I started to get excited for the big day, and that never happens this early in December.
The Festive Menu at Cookhouse and Pub
The Festive Menu is available from the 21st November to the the 31st December (excluding Christmas and Boxing Day), and offers traditional starters such as Pate and Prawn Cocktail, Traditional Turkey for mains or how about a Steak, Camembert and Cranberry Burger. And dessert choices such as Chocolate Fondant or Sloe Gin Trifle.
I decided I was going to go full on Festive, with Pate to start, Traditional Turkey and then of course Christmas Pudding. I was really impressed with every single course, with the sweet potato mash and stuffing being some of the nicest I have ever tasted. Plus it was served with lashings of Cranberry Sauce, just how your Christmas dinner should be.
The husband went for Leek and Potato soup, followed by Steak and Bourguignon sauce. He also upgraded his steak to the sirloin for an extra £1.99. And dessert was Baileys Profiteroles which looked absolutely amazing.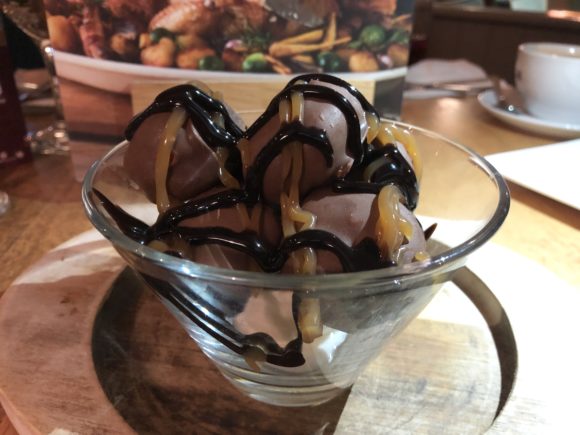 How much is the Festive Menu at Cookhouse and Pub
The Festive Menu is £12.99 for two course and £14.99 for three courses. Having had the three courses, the food is absolutely delicious for the price you are paying, and offers fantastic value for money. There is also the option to add on a Costa Coffee and After Eight Mints for £2.99, to fully finish off your meal.
We had a lovely evening starting off our own Festive season, and once again the food and service did not disappoint at The Woodpecker. Thank you to the team who looked after us, always having a smile for the many customers who were dining that night.