Just before Christmas I was asked to review a weeks worth of home diet food delivery by the French company Dietbon. To be honest the email couldn't have landed in my in-box at a better time. I had recently been put on long term steroids due to a lung problem, and one of the side affects of steroids is putting on weight due to feeling hungry ALL the time. I needed to take back some control with my eating, and having 6 days of meals delivered to my home seemed like a good place to start.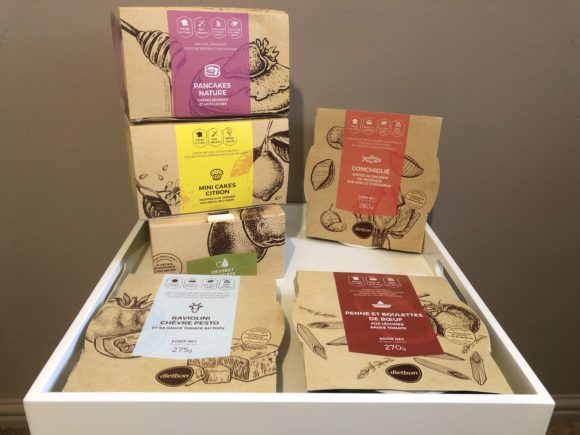 How does Dietbon work
Dietbon is a plan which helps you to lose weight, and 6 days out of 7 you eat the ready made Dietbon meals and snacks which are 100% natural, and the 7th day is a free day where you prepare your own meals. As I was doing Dietbon right before Christmas, I had 2 festive meals planned, so instead of doing 1 free day I split them for my 2 meals out. Before you start the plan you get a consultation call with a dietician, who was happy for me to split the free day. This worked really well for me, and shows Dietbon can work around plans that have already been made.
The Dietbon meals and snacks
I received a 7 day plan which included
12 ready made meals
1 box of pancakes for breakfast
1 box of fruit compote for a snack
1 box of small cakes for a snack
2 packets of tea 
You also get a handy booklet which has all the information you need to follow the plan, along with recipe ideas for your free day meals. In addition to the meals provided you need to add fruit, vegetables, milk and yogurt to your daily intake, and of course it's important to hydrate with 1.5 litres of water.
What do the Dietbon meals taste like
Having never tried a ready meal home delivery service before, I didn't really know what I was expecting. First off the meals are kept at room temperature, which was a good thing as this was pre-Christmas and the fridge was getting full. All of the meals are then warmed in the microwave for 2 minutes, though I found them a little on the cool side so I put them in for longer. And without too much thought, you have a healthy meal for lunch or dinner.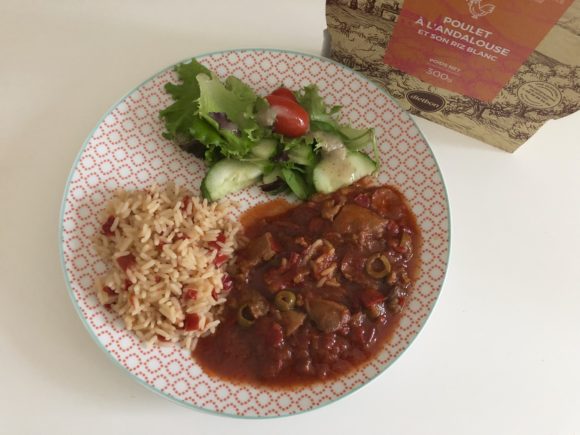 Overall I was really impressed with the taste of the meals, the meat was always tender, and most of the sauces were delicious. My favourite meals were
Andalusian Chicken and Rice
Chicken Tikka Masala
Meatballs
Chicken Fillet with Mashed Potato
Whilst the portions were smaller than I was used to, once I had added a salad or portion of vegetables they filled me up.

Did I lose weight with Dietbon
To be honest it wasn't really about losing weight for me, I wanted to gain some control with my eating, and try and stop the feeling of hunger you get with being on steroid medication. The plan helped me to eat at regular intervals, and I've definitely noticed that I'm less hungry now. I also managed to lose 4lb, and considering I had been out for 2 festive meals I was pleased with the overall results from Dietbon.
More information on Dietbon
A weeks supply of ready meals start from £44 per week, however you can get a fantastic 15% off your first order of a diet plan when you click on this link and use the WELCOME code, as well as getting a 28 day Morning and Night detox tea.
I received a weeks worth of Dietbon meals for the purpose of this review. All words and opinions are my own.