Since discovering Ikos in 2016 and Sani the year after, I often get asked which do I prefer. So I thought it was time to put my thoughts and comparisons into a blog post, based on the seven holidays we have had at Ikos and Sani.
Ikos has seven hotels, five of which are in Greece, and two in Spain. They offer luxury accommodation, all-inclusive, and the option to book deluxe if you want even more luxury on your holiday. They also have plans to open another two hotels over the next few years in Portugal and Crete.
Sani is in Halkidiki on the Greek mainland, and it's a resort which is made up of five luxury hotels, and a stunning marina. When booking you have the option to choose bed and breakfast, half board and full board. There are no all-inclusive options at Sani.
The accommodation at Ikos and Sani
Sani and Ikos both offer a great range of accommodation to suit people's needs, and for us personally we love staying in the one bedroom bungalow suites at Ikos Olivia. We prefer low rise accommodation, and our stays at Sani have been at Asterias and Dunes which offer this type of accommodation. Staying in a low rise suite meant we also had a private garden, complete with comfy chairs, luxury padded loungers, and a parasol incase the sun gets too much.
However you might prefer to soak up the sunset on your balcony, and both Ikos and Sani have the more traditional style of hotel accommodation.
Whichever room or suite you choose, the furnishings are very similar across both brands. Very luxurious, very calming colours, and both Ikos and Sani offer Anne Semonin toiletries in your bathroom.
The food at Ikos and Sani
The main difference with Ikos and Sani is the board options available. Ikos are a fully all-inclusive brand, nothing is extra, all premium drink is included, and you can literally go to Ikos and not spend anything. On our last visit in 2019, we spent an extra 52 euros over the 7 days we were there.
Sani offers no all-inclusive options, and instead offers bed and breakfast in some hotels, half and full board. Both times we have visited Sani we have booked the half board option. This obviously means you will get a bill at the end of your holiday, and if you haven't been to Sani before, drinks and food are not cheap, as of course this is a luxury 5* resort. To give you an example, the bill on our last visit to Sani in October 2019 was £402. This was for 5 nights and we went with our 2 teenagers. To be honest I was expecting the bill to be higher, so I was happy to pay just over £400.
The restaurants at Ikos and Sani
As Sani is made up of five hotels and a large marina, this has the best choice of restaurants to dine at (currently 22 at the Sani resort). If you are going half or full board, you will be using their dine around option, which gives you the flexibility of either dining from a set menu at certain restaurants, or using your half/full board allowance which is currently set at 20 euros per adult (Beach) 25 euros (Porto, Club, Dunes) and 40 euros for Asterias.
Booking is advised before you go, and we tend to chose a mixture of restaurants around the marina and hotels. Some of my best memories are sitting in Sani having our evening meal, overlooking the stunning marina.
We have recently returned from our 4th visit to Sani (October 2022) and I have written a seperate post about the best restaurants at Sani.
Ikos has the huge advantage of you holidaying there, and knowing that your food and drink has all been paid for. As Ikos are stand-alone hotels, the restaurant choice is smaller, but you still get a great variety of places to dine at. Ikos hotels offer Italian, Greek, Asian, French and also main buffet restaurants (though the buffet restaurant has been changed during the pandemic).
And if you still wanted more restaurant options, they also offer the dine-out option. A chance to eat at local restaurants, all of which are included in your all-inclusive. Add to this a 24 hour room service and a fully stocked mini bar, all-inclusive really does mean all-inclusive at Ikos.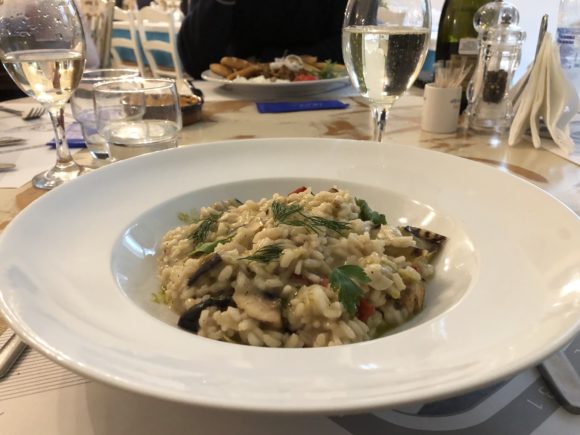 The pools at Ikos and Sani
The best thing about the pools at Ikos and Sani, are that they are heated. As we tend to travel in April and October, it means we can still jump in the pool, even when the temperature is a little cooler. And don't worry about whether you'll need to get up at 6am to secure a sunbed, there is plenty for everybody.
Ikos Olivia has 3 pools plus a spa pool, and last year they introduced a children's splash pad. At Sani the hotels all have their own pools, and Dunes had the biggest outdoor pool in Greece when it opened in 2017.
Which has the best activities – Ikos or Sani
Both resorts offer brilliant activities, and at Ikos everything will be included apart from motorised sports. Having teenagers we do find that Sani offers more for older children. They have the high rope course which is complimentary, the teen zone which is open all season, and they also offer the football and tennis academy. Older teens can also use the gym in the hotels at Sani, and our eldest really enjoyed doing this last time we went.
For us Ikos is a more chilled holiday. There is still plenty of activities on offer, such as non motorised watersports, tennis, football, bike hire, gym, table tennis, kids clubs etc, and the best thing is that most activities are included at ikos.
The entertainment at Ikos and Sani
I would describe the entertainment at Ikos and Sani as low key, and in our 5 visits I've never had to partake in a cheesy holiday dance, thank goodness. What you will find are white night parties on the beach (do not miss this as they are brilliant), singers and musicians in the bars, and entertainment on selected evenings. Sani also has a huge outdoor theatre, and the show we watched back in 2019 was excellent.
Which is best for families – Ikos or Sani
This is probably the question I get asked the most, and the most difficult to answer. Both Ikos and Sani pride themselves on being 5* luxury brands, and are very family friendly. They cater very well for all ages, and part of me wishes that we had discovered Sani and Ikos when our children were little.
As we are a family with two teenagers, I do think that Sani has the slight edge over Ikos. This is down to the activities on offer for teens, the resort is bigger which means there is more for them to do. My eldest also enjoyed going off exploring Sani by himself. Though if you prefer to know that everything is paid for beforehand, Ikos would be the best holiday. You can go there and not worry that you'll be charged over 9 euros for a bottle of water, yes that did happen to me in one of the restaurants at Sani.
And couples
We are returning to Sani in October to celebrate our 20th wedding anniversary, and this will be our very first trip abroad without our children. We decided on Sani as we felt it has a slightly more grown up feel, and we love dining around the marina. We have booked into Sani Dunes for 5 nights, and this will be our second time staying at Dunes.
Edited to add that we had another fantastic holiday at Sani Dunes in October 2021, and we both felt that Dunes was perfect for couples. We enjoyed it so much that we also booked for October 2022.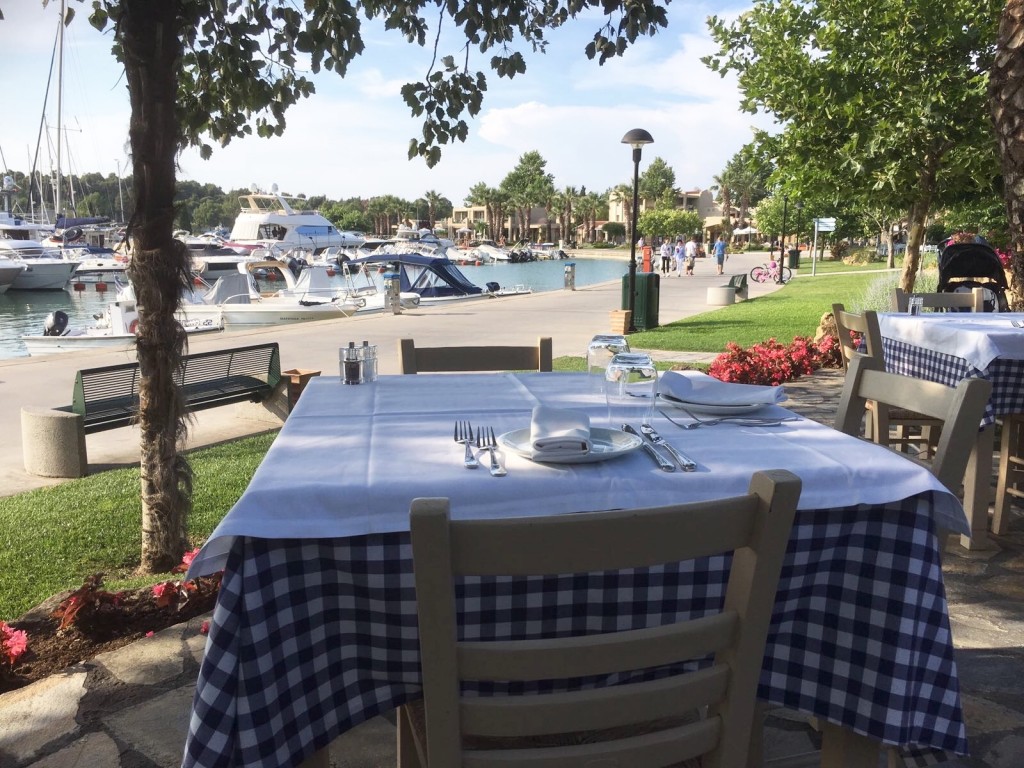 Which offers the best price – Ikos or Sani
To give you an insight into pricing, I've put below what we paid for our Ikos and Sani holiday, both of which were in 2019.
Ikos Olivia April 2019
7 nights for 2 adults and 1 child
Flights with easyJet £300
Accommodation in a one bedroom suite £1700
Extras £55
Total cost £2055
Sani October 2019
5 nights for 3 adults and 1 child (our eldest was classed as an adult)
Flights with easyJet £530
Accommodation at Sani Asterias in a one bedroom suite £1280
Extras which included our drinks, lunches, pedalo hire, room service – £402
Total cost £2212
As you can see they are roughly the same cost. We did go to Sani for 2 less nights, though we did have an extra child holidaying with us. Obviously the best way to compare costs is to contact Ikos and Sani direct, or use a travel agent if you wish.
So going back to my original question of which luxury resort is better, I honestly can't give you an answer as I love them both equally. This year we were due to holiday at both Ikos and Sani again, but unfortunately our stay at Ikos Andalusia has been cancelled. I'm keeping everything crossed we get to Sani later on in the year.
I hope this post has been useful, and if you have any further questions I've not covered in the post, please email me. I also run the Ikos Olivia group on Facebook which you are more than welcome to join.
Looking for individual reviews of our stays at Ikos and Sani – you can find them all here.